RACING fans woke up to the sad news on Saturday morning that Turffontein-based trainer Ernie Anderson had died. Ernie was a friend of Heversham Park and had trained a horse for us.
While he never had the good fortune of training a real champion, Anderson was one of the most likeable men in the sport, loved his racing and was always available for a chat.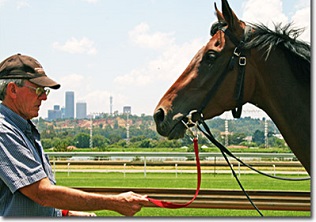 Last month he had a heart attack but it was reported to be reasonably mild and he was expected to recover.
Ernie's interest in racing started while he was still working as a quantity surveyor and he became an owner in 1976, back in the days when one still had to sit through an interview before being granted colours for a single horse.
He started training in 1987 and had his first winner in January 1988 with a little horse called Tangi. He was first based at Newmarket and then Germiston before moving to Turffontein when Germiston closed down.
His best horses included handicapper Flagstone and the stakes winning mare, Garland.
Apart from his passion for racing, Ernie was an avid reader and collector of books and had a keen interest in mountain hiking, especially in the Drakensberg. He also bred Red Angus Cattle and at one stage had built up a substantial registered breeding herd.